Current Exhibition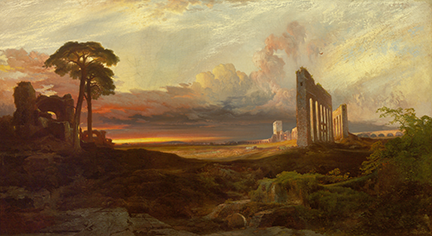 The Romantic Impulse In the American Landscape Tradition
On View January 26 to June 3, 2018
The Romantic Impulse in the American Landscape Tradition traces the unique responses of American painters and printmakers to changing ideas about landscape from the early 19th century to the present day.  The exhibition centers on the Timken's own painting by Thomas Moran, Opus 24: Rome, from the Campagna, Sunset (1867),  and considers how sublime space, ancient ruins and pastoral poetics were expressed by a surprisingly wide variety of artists: Albert Bierstadt, Arthur Wesley Dow, William Keith and others.  Works from the Timken, USD's print collection, and various private lenders will be included.
The Romantic Impulse in the American Landscape Tradition: A Soundscape
Nuvi Mehta, Project Director, San Diego Symphony
Works in this exhibition elicit a sense of awe at the beauty and majesty of nature, as well as a sense of nostalgia for the distant past. In identifying music to accompany the paintings and prints, I turned to the Romantic-era composers, much as the artists shown here turned to earlier examples of European landscape painters for their inspiration.
 The soundscape plays on a 30-minute loop.
Ottorino Respighi wrote Pines of Rome in 1924. This is the third movement - Pines on the Janiculum Hill. If you think you hear birds, you do. Respighi incorporated them into his original recording of Pines of Rome. Here, I took the liberty of extending their singing into other areas of the sound track.    
One of the last large scale Romantic masterworks was Richard Strauss' An Alpine Symphony, written between 1911 and 1914. In music, Strauss depicts a hike in the Alps he had taken as a boy, including the moment when the party he was with became lost and then soaked during a thunderstorm.
In 1879, having finally had some success, Antonin Dvorak, sent Johannes Brahms' publisher a new suite. The incorporation of Czech folk music flavors this particular composition, and the work soon became known as the Czech Suite. Dvorak subtitled the first movement Pastorale. It is meant to invoke a pastoral setting.
Années de pèlegrinage (Years of Pilgrimage) is a set of three suitesfor solo piano by Franz Liszt. After a period of extended travel abroad, Liszt was inspired by Italian poetry, and especially by Petrarch's 123rd sonnet, which he set to music:
On earth reveal'd the beauties of the skies,
Angelic features, it was mine to hail;
Features, which wake my mingled joy and wail,
While all besides like dreams or shadows flies.
And fill'd with tears I saw those two bright eyes,
Which oft have turn'd the sun with envy pale;
And from those lips I heard—oh! such a tale,
As might awake brute Nature's sympathies!
Wit, pity, excellence, and grief, and love
With blended plaint so sweet a concert made,
As ne'er was given to mortal ear to prove:
And heaven itself such mute attention paid,
That not a breath disturb'd the listening grove—
Even æther's wildest gales the tuneful charm obey'd.
Charles Tomlinson Griffes was born in Elmira, NY in 1884. He studied in Germany, and wrote in the German Romantic tradition before incorporating more impressionist techniques upon returning to the United States. The inspiration for The White Peacock—once described as the most beautiful piece of American music ever written-- came to Griffes as he watched a sunset while riding the train from Tarrytown to New York.
Camille Saint- Saens finished his Symphony No. 3 (with Organ) in 1886. Saint-Saëns said "I gave everything to it I was able to give. What I have here accomplished, I will never achieve again." We hear excerpts of the slow Maestoso or 'majestic' section
This exhibition is made possible by our generous supporters:
Collection of Sandy and Bram Dijkstra
Friends of the Timken
Collection of Angel and Fred Kleinbub
Museum of Contemporary Art San Diego
Rembrandt Society
San Diego City Commission for Arts and Culture
San Diego Symphony
Supervisor Ron Roberts, County of San Diego
Fine Art Collection, University of San Diego
Print Collection, University of San Diego
Image: Thomas Moran, Opus 24: Rome, from the Campagna, Sunset, 1867, oil on canvas, 63.5 x 114.6 cm (25 x 45 1/8 in.), Timken Museum of Art
---
Past Exhibitions and Installations