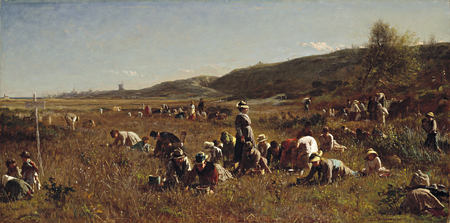 A Paean to Rusticity and Agrarian Life
'The Cranberry Harvest, Island of Nantucket,' by Eastman Johnson, is a beautifully realized vision of community.
Robert L. Pincus
June 30, 2017 2:04 p.m. ET
In 1880, when Eastman Johnson completed what is arguably his greatest painting, "The Cranberry Harvest, Island of Nantucket," he was already one of the best-known American artists of his era. His renown hinged on paintings that told stories. This one was less concerned with narrative: The people in the picture were simply gathering a favorite local fruit. And while work is work, the painting presents it as a kind of pleasurable communal activity. The light falls on many of them, and what radiant light it is. Johnson was a master at evoking the way it slants across a scene, selecting people and objects and leaving others in lush shadows.
There are 40-plus figures in this painting, which is in the small but stellar permanent collection of the Timken Museum of Art in San Diego. The few detractors of this canvas, when it was first exhibited in New York at the National Academy of Design in 1880, thought their arrangement was too random. That isn't the case, but the structure is subtle. The central standing figure, a woman with illuminated bonnet, is echoed by other vertical forms: a crude sign at the far left that contains the word "cranberry" and a child at the far right. The figures, as an ensemble, form loose diagonals that lure the eye into the distance; there, a church steeple, a windmill and a lighthouse (additional horizontals) ultimately carry us to the town and bay. (Johnson thought the windmill was such an important emblem of Nantucket's colonial past that he moved it from another spot on the island into this vista.)
Few paintings, in the 19th or any other century, blend figure and landscape as well as this one. Thomas Eakins and Winslow Homer were greater American realists, but "The Cranberry Harvest" compares favorably to their best paintings.
"The Cranberry Harvest" is a paean to rusticity and agrarian life at a time when the U.S. was industrializing at a dizzying pace and when wealth was being amassed at an equal clip. You wouldn't know it, looking at this painting, but anxiety about the future of America was high. Mark Twain and Charles Dudley Warner famously dubbed this period the Gilded Age, in their novel by the same name, for the precipitous increase in wealth and rising political corruption they witnessed in the 1870s.
These social realities only made the painting appealing to Eastman's contemporaries. But more crucially, for its longer life as a painting, the image he ultimately created, which was the outgrowth of several studies, is one of the most beautifully realized and compelling visions of community life in art history. Not because Johnson is making a visual statement, as in his famous Civil War era picture "The Wounded Drummer Boy," which extolled the heroism of the Union cause. Quite the contrary. In "The Cranberry Harvest" he isn't preaching the virtues of an agricultural life; he is simply presenting people going about their seasonal ritual of harvesting cranberries.
Johnson, who spent part of each year on Nantucket, lingered longer than usual in 1880 before returning to New York. He surely thought he was onto something with "The Cranberry Harvest." "I am staying here to get through with things begun," he wrote to his friend and fellow painter Jervis McEntee on Dec. 13, 1879, "… the models are here and whatever material I require, and that is all there is of the pictures, so I can't do them elsewhere."
He had always had a dazzling command of the figure, going back to the 1850s. But when Johnson turned his attention to paintings populated by multiple figures, he invariably created a tidy narrative for them, whether it be Bible reading, riding the stagecoach or a domestic moment. These paintings, though beautifully executed, feel tightly controlled by their stories and bound to their historical moment. Not so "The Cranberry Harvest." It depicts a moment in time, as if frozen in place; in the process he makes that moment feel larger than life, a poetic distillation of it.
This conceit of a frozen moment needs for the figures to look utterly natural, and they do. And the subject of the picture is humble, its sweep impressive. The effect is akin to a symphony in which the melody is richly textured with orchestration. And as with a symphony, in which you listen repeatedly and find different details, many viewings of the picture reveal different facets. At the far left are children in conversation about something off stage. At center is a man who has brought a chair with him, working at a leisurely pace. At the far right, people load the harvest into a wagon.
The two great qualities in Johnson's art—his mastery of figure and light—coupled with his gift for landscape painting, found their meeting ground in "The Cranberry Harvest," yielding a panorama that depicts people in harmony with nature. Nineteenth-century thought and aesthetics were animated by a search for this harmony, and Johnson found a way to present it profoundly but unpretentiously.
—Mr. Pincus is the author of "On a Scale That Competes With the World: The Art of Edward and Nancy Reddin Kienholz" (California).