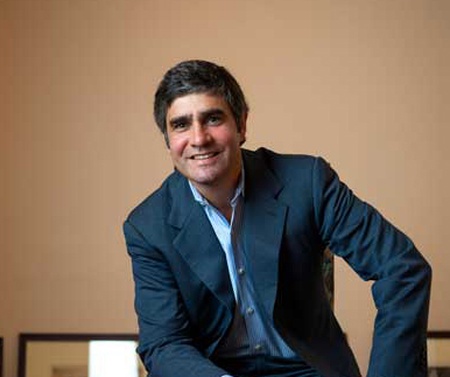 The Timken Museum of Art announced today the expansion of its ongoing partnership with the University of San Diego. Through this enhancement, Derrick R. Cartwright, PhD., art history professor and director of University Galleries at University of San Diego, will also oversee the Timken Museum of Art's curatorial program.
"Both the University and I are thrilled by the opportunity to collaborate with a world-class museum, which the Timken most certainly is," says Cartwright. "The curatorial, educational and other programmatic opportunities we create as a result of this partnership will aim for the highest possible quality and promise to have a profound impact on the community, the Museum, and the students at USD."
Cartwright joins recently appointed Executive Director, Megan Pogue, a 12-year San Diego Symphony veteran, and newly elected Board President, recently-retired SDGE Chairman Jessie J. Knight, Jr. to round out the Museum's new leadership team. 
"The Timken is positioned for a bright and stable future. I have been focused on accomplishing this direction for several years," says current Board President, Tim Zinn. "Derrick's artistic expertise combined with Megan's solid business background is a winning formula and a return to the Timken's original model of operations. I leave my tenure as Board President knowing the Timken is in very capable hands".
Cartwright follows David Bull, an internationally renowned Art Conservator who stepped in as Visiting Director in 2014 to oversee the Museum's 50th anniversary year. In addition to spearheading the Timken's first major art acquisition in over 10 years, Francis Zurbarán's "St. Francis in Meditation" (1635), Bull curated two blockbuster exhibitions for the Timken; Raphael's The Madonna of the Pinks and Vermeer's Woman in Blue Reading a Letter.
Cartwright will begin his assignment in February by overseeing two previously-scheduled special exhibitions in 2016; An Archaeologist's Eye opening in April and Bruegel, part of a Balboa Park-wide collaborative exhibition celebrating the San Diego Zoo's centennial, opening in September.
"I look forward to fulfilling the lofty goals of the projects that both David and John [Wilson, the previous Timken director] initiated during their tenures," said Cartwright. "Working in tandem with Megan Pogue and Jessie J. Knight, Jr. towards establishing a continuing, vibrant artistic vision for this important cultural resource is a privilege."
Among the projects already under exploration, Cartwright mentions the inauguration of a "Private Collections" series of temporary exhibitions, which will showcase works of art rarely seen by the public, as well as solidifying an international Art Advisory Committee initiated by Bull, who along with his wife, Art Conservator Teresa Longyear, will remain closely involved with the Timken.
Cartwright has broad experience as a director of prestigious art museums: the Musée d'Art Américan Giverny, the Hood Museum of Art at Dartmouth College, the San Diego Museum of Art and the Seattle Art Museum. He has also curated more than 20 exhibitions during his career. In 2004, Cartwright curated Benjamin West: Allegory and Allegiance for the Timken and, together with Hugh Davies and John Petersen, conceived the region-wide project Behold, America!; Art of the United States from Three San Diego Museums which opened in 2012.
About the Timken Museum of Art
Affectionately called San Diego's "jewel box" of fine art, the Timken Museum of Art is located in San Diego's historic Balboa Park on the Plaza de Panama. It is the permanent home of the Putnam Foundation's significant collection of European old masters, 19th century American art and Russian icons. Notable works in the collection include Rembrandt's "Saint Bartholomew" (the only painting by the Dutch artist on public display in San Diego); Pieter Bruegel the Elder's "Parable of the Sower;" John Singleton Copley's "Portrait of Mrs. Thomas Gage;" Eastman Johnson's classic "The Cranberry Harvest: Island of Nantucket;" and Jean-Baptiste-Camille Corot's "View of Volterra." Known as one of the finest small museums in the world, the Timken provides visitors with an accessible and enriching cultural experience featuring a beautiful collection, intimate surroundings, and free admission.
The museum is open from 10 a.m. to 4:30 p.m. Tuesday through Saturday and Sundays, noon to 4:30 p.m. It is closed on Mondays and major holidays. For more information, visit http://www.timkenmuseum.org. Follow the museum on Facebook or Twitter at @TimkenMuseum or call (619) 239-5548.