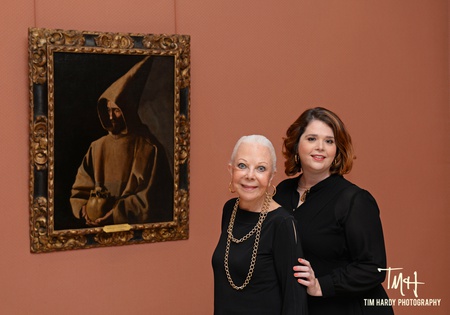 Goal is to raise funds for art education—and to raise awareness of Timken's priceless art collection, the foundation of its educational outreach efforts in San Diego County
Two of the most dynamic women in San Diego—society maven Jeanne Jones and Modern Luxury magazine publisher Jessica Cline—have joined forces and accepted the challenge to serve as co-chairs of the Timken Museum of Art's second annual Orange & Black Ball, a Timken Halloween Fantasy, to be held on Saturday, October 29, 2016. 
The co-chairs' primary task will be to generate funds to benefit the museum's art education and outreach programs. Last year's Orange & Black Ball, the successful first fundraising event of its kind was led by co-chairs, U.S. Bank executive (retired), Joye D. Blount, and her husband, Jessie J. Knight, Jr., who also serves as chair of the Timken's board of directors. 
Orange & Black Ball Co-chair Jeanne Jones:
The pairing of Jeanne Jones and Jessica Cline, close friends and both longtime residents of San Diego, may seem an unlikely duo for this important social event, but according to the Timken, their differences are their strengths. Philanthropist Jeanne Jones, a longtime member of the Timken and a permanent fixture of the San Diego social scene, represents a group who, through their good work and consistent financial support, keeps the San Diego arts and culture community thriving and alive. 
 A key reason Jones became involved in chairing the Orange & Black Ball is the Timken's extensive outreach programs, serving more than 55,000 individuals annually.
"I believe education is the most significant contribution a museum can make to its community," says Jones. "The Timken's programs reach deeply into underserved communities such as combat veterans, at-risk youth in juvenile hall, Alzheimer patients and Title I schools.   More people need to know about the Timken and all that it does for individuals and organizations who might otherwise not have the opportunity to experience the power of art in their lives."
Orange & Black Ball Co-chair Jessica Cline:
The other half of this dynamic twosome is Jessica Cline representing a different, but equally important segment of the public.  As publisher of Modern Luxury, Cline has her finger on the pulse of San Diego's social scene and has been covering galas and fundraising events for a number of years.  At the same time, her publishing experience has earned her a discriminating eye for those organizations that standout and truly enrich the lives of others, which makes her a powerhouse co-chair.
Cline says, "The number of San Diego fundraisers can get dizzying for those on the guest lists of what seems to be countless galas in San Diego.  When the request to co-chair this year's Orange & Black Ball came across my desk, it just seemed different than the others, more meaningful. It is the right event at the right time, and I can't wait to make a difference."
Executive Director Megan Pogue Leads Gala Team Effort; Plans To Build on Last Year's Success 
The Orange & Black Ball is the brainchild of Timken Executive Director Megan Pogue, who joined the Timken in April 2015 and is a seasoned veteran in the San Diego arts and culture community.  She served for nearly a dozen years as vice president of business development of the San Diego Symphony. 
"Having worked on many galas in the past, I knew the right event chairs were key to the success of a fundraiser. Jeanne Jones and Jessica Cline are the dream team," stated Pogue.
"We are extraordinarily grateful to them for their willingness to serve in this pivotal role.  With Jeanne and Jessica, we are also addressing the challenge faced by most arts organizations:  how to appeal to longtime patrons while enticing the next generation to lend their support and become engaged with the organization." 
Orange & Black Ball Ticket Prices
The full gala is from 6 p.m. to midnight and includes a cocktail party at the Timken, with handcrafted cocktails by Snake Oil Cocktail Company and seasonally inspired hors d'oeuvres, dinner at the Prado Grand Ballroom, live entertainment, and After Party with dancing and valet parking. Tickets are $500.
The After Party is 8 p.m. to midnight and includes an open bar at the Timken, with handcrafted cocktails by Snake Oil Cocktail Company and seasonally inspired hors d'oeuvres, and an After Party at the Prado Grand Ballroom with dancing. Tickets are $100.
Free Admission to the Timken Museum of Art, Balboa Park
The Timken Museum of Art, which offers free admission to the public, is known among both art experts and frequent visitors alike as the "jewel box" of fine art and is one of the finest small museums in the world.  The Timken provides visitors with an accessible and enriching cultural experience and boasts the permanent home of the Putnam Foundation's significant collection of European old masters, 19th century American art and Russian icons.  Notable works in the Timken's collection include: Rembrandt's Saint Bartholomew, which was just acquired in 2015 and is the only painting by the Dutch master on display in San Diego; Francisco de Zurbarán's Saint Francis in Meditation, Pieter Bruegel the Elder's Parable of the Sower; John Singleton Copley's Portrait of Mrs. Thomas Gage; Eastman Johnson's classic, The Cranberry Harvest:  Island of Nantucket; and Jean-Baptiste-Camille Corot's View of Volterra. 
For more information about the Timken Museum of Art and the Orange & Black Ball, please call 619.239.5548 or visit www.timkenmuseum.org.
San Diego's Newest Power Couple:  Jeanne Jones and Jessica Cline to Chair Timken Museum of Art's 'Orange & Black Ball,'  One of San Diego's Premier Fundraising Events of the Fall Season