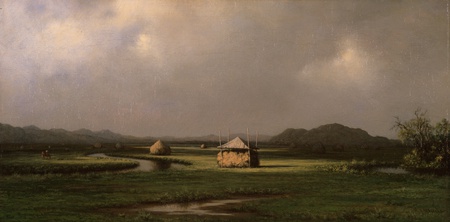 In early July the Timken Museum of Art kicks off its new partnership with the University of San Diego with a joint exhibition of more than 20 works of art from a private collection, none of which have ever been seen in San Diego.
The exhibition, Collections in Context: American Art from a Pacific Northwest Collection, 1860 – 1915, will feature the extraordinary works by American painters, sculptors and printmakers including Mary Cassatt, Winslow Homer, John La Farge, John Frederick Kensett and Frederic Remington, to name a few. 
"This particular private collection is renowned within the curatorial community in the United States and features singular works by some of the greatest American artists of the late 19th and early 20th centuries," said Derrick Cartwright, Curatorial Director, Timken Museum of Art and Director of University Galleries, University of San Diego. 
For ten weeks, art enthusiasts will have a rare opportunity to explore 20 extraordinary works by American masters that have never been shown in San Diego. From the Hudson River School to American Impressionism, the exhibition provides a strong overview of artistic practice in the United States from the Civil War to the turn of the last century.
Cartwright said, "I am eager for San Diegans to have the opportunity to study these truly memorable works—from delicate oil paintings by La Farge and Twachtman, to sculpture by Saint-Gaudens and Remington, to prints by Homer and Cassatt – shared by the Timken and the Robert and Karen Hoehn Family Galleries at USD."
Some of the 19th century masterworks relate closely to representations that are familiar—for example works already at the Timken by Martin Johnson Heade and John Frederick Peto.
In addition to bringing new art to San Diego, the exhibition marks the first of many projects with Timken and USD.
"Although the Timken has had a longstanding relationship with the University of San Diego, our recently forged partnership will create the opportunity for ongoing join exhibitions and enhanced levels of scholarship around our collection," said Megan Pogue, Timken Executive Director. "We are excited about this exhibit and look forward to sharing it with the community." 
The exhibition will be on view at the Timken from July 1, 2016 through September 4, 2016 and July 8, 2016 through September 4, 2016 at the USD Robert and Karen Hoehn Family Galleries.
About the Timken Museum of Art
Affectionately called San Diego's "jewel box" of fine art, the Timken Museum of Art is located in San Diego's historic Balboa Park on the Plaza de Panama. It is the permanent home of the Putnam Foundation's significant collection of European old masters, 19th century American art and Russian icons. Notable works in the collection include Rembrandt's "Saint Bartholomew" (the only painting by the Dutch artist on public display in San Diego); Pieter Bruegel the Elder's "Parable of the Sower;" John Singleton Copley's "Portrait of Mrs. Thomas Gage;" Eastman Johnson's classic "The Cranberry Harvest: Island of Nantucket;" and Jean-Baptiste-Camille Corot's "View of Volterra." Known as one of the finest small museums in the world, the Timken provides visitors with an accessible and enriching cultural experience featuring a beautiful collection, intimate surroundings, and free admission.
The museum is open from 10 a.m. to 4:30 p.m. Tuesday through Saturday and Sundays, noon to 4:30 p.m. It is closed on Mondays and major holidays. For more information, visit http://www.timkenmuseum.org. Follow the museum on Facebook or Twitter at @TimkenMuseum or call (619) 239-5548.