Virtual Crafting Workshop: 
Paper Design 
With Bhavna Mehta, Master Paper Artist 
Join us for our upcoming Valentine's workshop and discover the craft of paper artistry. This live interactive masterclass, led by celebrated paper artist, Bhavna Mehta, will teach you how to cut complex florals to compose a contemporary 3D art keepsake for yourself or a loved one. 
A guaranteed evening of inspiration, creative spirit, and good company. Just grab your favorite libation and tune in to attain the skills of a master paper artist. 
Price of Ticket includes: 
Paper Artist's "supply kit" with all the tools and materials necessary for this workshop

Live interactive virtual class with paper artist, Bhavna Mehta

Shipping of supply kit to your home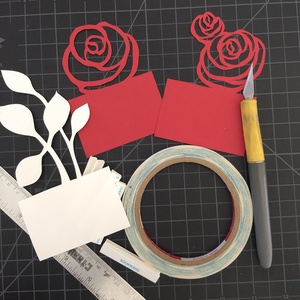 Call Alexandra for tickets at 619-550-5955. 
About Bhavna Mehta: 
Bhavna's style is influenced by folk art traditions from India. She was born and raised in India in an extended family, surrounded by women who constantly embroidered, knitted and sewed, and created from the home. These influences can be seen through her "Virtual Stories". Beginning with a single sheet of paper, Bhavna cuts intricate shapes, adding more and more details to create a story, using her art to speak a common language about cultural and personal connections. 

In the summer of 2018, the Timken Museum of Art hosted Bhavna Mehta as our Artist in Residence. Bhavna was inspired by Bartolomeo Veneto's "Portrait of a Lady in a Green Dress" and used this Timken work to create "Leela" - a stunning delicate paper sculpture of a woman accompanied by paper leaves, dragonflies, and butterflies, displayed in our Central Gallery. Photo Credit: Alanna Airitam.