CURRENT EXHIBITIONS
 Boucher: Conservation in a Park
---
Kehinde Wiley, Equestrian Portrait of Prince Tommaso of Savoy-Carignan (2015)
---
PAST EXHIBITIONS
 Matt Rich - P&!NTING
---
 Reconsidering Rembrandt: Night Watching, by Rineke Dijkstra
---
 Exchanging Words: Women and Letters in Seventeenth-Century Dutch Genre Painting
September 21–December 31, 2022
Women and letters feature prominently in Dutch genre paintings from the second half of the seventeenth century. Captivating images show women reading, writing, and receiving letters, often in the company of books, and exchanging ideas with present or absent companions. Although the contents of these missives are rarely legible, they invite curiosity and contemplation, drawing the beholder into intimate, domestic spaces. Such scenes emphasize women's engagement with the written word and demonstrate a remarkable interest in representing their intellectual lives. 
The popularity of epistolary themes in Dutch genre painting reflected a rise in the use of personal correspondence—particularly in the exchange of love letters—among the Dutch upper classes in this period, as well as advances in the postal system and the publication of letter-writing manuals. Rather than situating these scenes exclusively within the tradition of amorous correspondence, however, this exhibition explores how an exceptional group of eight genre paintings by Gabriel Metsu (1629–1667), Frans van Mieris (1635–1681), and Gerrit Dou (1613–1675) contributed to—and challenged—various societal ideas surrounding women's education, literacy, and learning. Drawn from the Timken Museum of Art and The Leiden Collection, among the most important collections of Dutch art in private hands, these works display a striking modernity in their representation of women, showing them as active participants in a wider cultural sphere. 
This exhibition is supported as part of the Dutch Culture USA program by the Consulate General of the Netherlands in New York.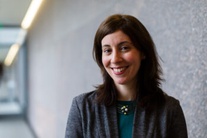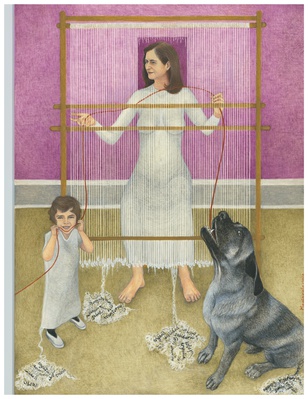 Special Preview - June 16 
Summer Residency - June 17 - July 7, 2022
On View - July 13 - September 4, 2022 
This will be the third in the Timken's popular summer series featuring local artists-in-residence. Following the success of Bhavna Mehta (2018) and Roman de Salvo (2019), we have invited Marianela de la Hoz to produce new work within the museum. De la Hoz is an admired painter whose work has been displayed in museums in Mexico and the United States. For the Timken, she proposes to complete a series of small-scaled works loosely based on the narrative of Penelope, a key character in Homeric myth, who uses weaving (and unweaving) as a clever strategy for delaying the pursuits of her suitors until her husband, Odysseus, returns from war.  

NEW! Download the popular Extended Labels from Marianela de la Hoz's Destejidas-Unwoven. Click here to download the PDF. 
 Spring Exhibition: Captivating Women 

 

From the Dijkstra Collection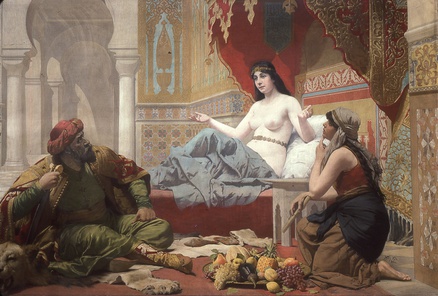 On view February 11 - May 10, 2020 
This exhibition explores the variety of strategies used by artists in both Europe and the United States to depict women. Both mythological scenes and everyday life are depicted in these paintings all of which date from the late 19th- through the early 20th century. The collection of Sandra and Bram Dijkstra is known to connoisseurs for its quality and its strong focus on academic works from the fin de siècle.  This project was conceived as part of a course taught at the University of San Diego by Timken's Director of Curatorial Affairs, Derrick R. Cartwright, Ph.D., during the fall of 2019 and includes the input and interpretations of young scholars as they approach the enduring qualities of these complex, compelling representations. Click here to read about the exhibition in the words of Bram Dijkstra. 
Click here for the online exhibition video! 
Click here for PowerPoint! 
 News Release for Captivating Women click here! 
 Fall Exhibition: Masterpieces of Italian Drawings from The British Museum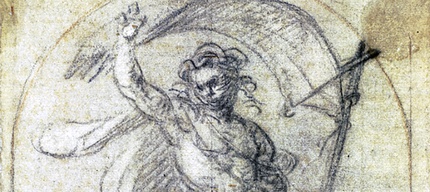 On View: September 6 - December 15, 2019 
The Italian Renaissance and Baroque periods will come to life as the Timken Museum of Art in Balboa Park, San Diego presents Masterpieces of Italian Drawings from The British Museum, September 6 through December 15, 2019.  The goal of the exhibition featuring the themes of birth, death, and resurrection is to share with the public some of the greatest drawings of these famed art historical periods, many of which are being seen for the first time in San Diego.  The exhibition is an ambitious first-time-ever collaborative effort among the Timken, University of San Diego (USD) and The British Museum in London. Since the Timken and USD have worked together previously, the leadership of both institutions felt that their closeness and parallel missions—a commitment to European art of the highest quality—have made this a natural project on which to work together.  The entire collection from The British Museum will include 54 drawings and prints, many of which will be on display at the Timken, featuring such 16th-century masters as Pamigianino, Andrea del Sarto and Agostino Carracci and the 18th-century artists Luca Giordano and Domenico Tiepolo.  The balance of the drawings will be on display at the USD Galleries. 
 Artist in Residence: Roman de Salvo's Electric Picnic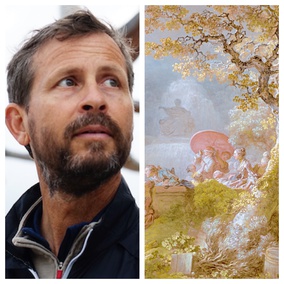 Residency: May 21- June 21, 2019
On view: July 28 - August 25, 2019 
Roman de Salvo is a contemporary American sculptor whose work infuses the every day with surprising effect and intrigue. His art is characterized by the inventive use of ordinary materials and objects often involving energetic phenomena such as wind, water, fire, electricity, and audience participation. As part of the Timken Museum of Art's summer artist-in-residence program, de Salvo will create the Electric Picnic sculpture based on the picturesque, Rococo-era, Blindman's Buff (1775-80) by Jean Honoré Fragonard, which is part of the Museum's permanent collection. De Salvo's residency starts at the beginning of June, and the Electric Picnic sculpture will be on display at the Timken June 28 through August 25, 2019. 

 
Metonymies: A Dialogue with Twentieth-Century Works from the Sonnabend Collection
On view February 8 – April 28, 2019
Ileana Sonnabend (1914-2007) was a gallerist and connoisseur of twentieth-century art.  Through her legendary galleries in Paris and New York, Sonnabend helped establish the global reputations of many young artists: Andy Warhol, Jasper Johns, Robert Rauschenberg, Roy Lichtenstein, and Jeffrey Koons, to name only a few. Like the Timken's founders, the Putnam sisters, Sonnabend brought a remarkably independent perspective to her personal collecting practice. Upon her death, she left an invaluable trove of modern masterworks to a foundation that bears her name, as well as to her family.  Metonymies—from the Greek word for substitution—exchanges well-known works from the Timken's permanent collection with unique objects from the Sonnabend Foundation Collection and Antonio Homen. This exhibition represents the first time that these works from the Sonnabend Collection are being shown publicly in San Diego.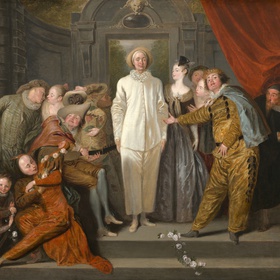 Rococo Rivals and Revivals
On view September 21 - December 30, 2018
The Timken Museum of Art is proud to present its upcoming fall exhibition Rococo, Rivals and Revivals. Composed of 12 objects, paintings, drawings and prints, featuring regional, national and international loans, this exhibition will be presenting, for the first time in Southern California, a global vision on the different personalities and schools of Rococo. If this aesthetically pleasing genre has become one of the public's favorite, it is almost impossible to reunite the main actors of this play under one roof, as if the rivalry between them had been passed throughout the centuries – not unlike the protagonists depicted in The Italian Comediansby Antoine Watteau, on loan from the National Gallery, Washington D.C. It is at the Timken that those masters will be presented and confronted to each other, where you will be able to contemplate and compare their similarities - and their differences. Watteau's investigation of the commedia dell'artesubject matter represents a critical component to the exhibition's overall narrative with his innovative combination of reality and artifice. The dialogue established between these masterpieces and those of Boucher and Fragonard, who are also represented at the Timken, surely will be interesting, as it is the first time this rare instance of the three most prominent Rococo painters will be exhibited together in San Diego.
Paired with contemporary representations by Yinka Shonibare, Chris Antemann and others, Rococo, Rivals and Revivalsis offering an unconventional spin on the typical subject matter of flirtation and seduction, common during the Rococo period, fantasized in a world where reality and artifice meet.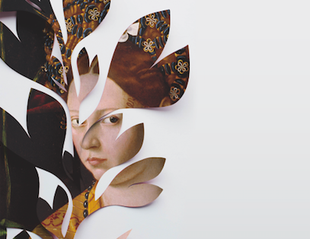 Leela - Portrait Of A Woman In A Green Dress
June 5th to September 16, 2018
With the first days of summer approaching, the Timken becomes, once again, the theater of the/modernist installation, turning its galleries into a playground for a contemporary visual artist.
This year, the museum has a real treat: our artist is none other than Bhavna Mehta -named Emerging Artist for the San Diego Art Prize in 2014, who will be the Timken's artist-in-residence during the month of June, providing visitors the unique opportunity to observe the intricate process of her artistic creation. While in the museum, Bhavna and her assistant will be finishing the last touches to Leela – Portrait of A Woman in a Green Dress, a 3-dimensional artwork on display this summer, echoing the Timken's Portrait of a Lady by Bartolomeo Veneto.
Leela - Portrait Of A Woman in A Green Dress: the history. 
It was back in December 2017 that the Timken's Portrait of a Lady in a Green Dressfirst caught Bhavna's eye. She was so intrigued by her sculptural presence, that Bhavna felt compelled to pay homage to her - "with absolutely no intent on copying". As for the name of her lady, it came from Bhavna's memories; growing up, she often heard the Sanskrit word Leela which means cosmic play. Leela also comes from the word leelo which means green in Bhavna's mother tongue Gujarati.
And for obvious reasons: unlike Bartolomeo's Portrait of a Lady, - enclosed in the border of a heavy Venetian frame, stuck in a two-dimensional world with heavy clothing she seems trapped within - Bhavna's paper Leela will be floating in the museum's central rotunda. The light wind coming from the museum doors will caress her delicate paper dress, allowing her to dance in the air; her head, surrounded by buzzing paper dragonflies and butterflies infused with her ideas and dreams, embracing her as the center of her own universe. 
Living just a few feet away (and right before her eyes), Leela offers a contrasting narrative to Veneto's Portrait of a Lady. "It's a powerful dialogue offered by those two women, similar, and yet so different." says Bhavna. "I dream that behind the scenes, when the museum closes its doors, the two women meet halfway and get to know each other". A dream Bhavna Mehta invites us all to share. 
Artist-in-Residence: June 4 – June 24, 2018
Leela Exhibition on Display: June 29 – September 16, 2018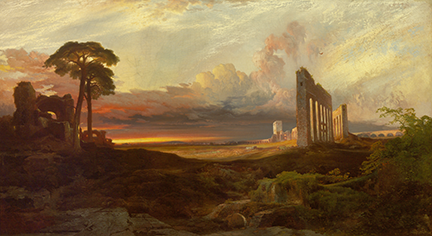 The Romantic Impulse In the American Landscape Tradition
On View January 26 to June 3, 2018
The Romantic Impulse in the American Landscape Tradition traces the unique responses of American painters and printmakers to changing ideas about landscape from the early 19th century to the present day.  The exhibition centers on the Timken's own painting by Thomas Moran, Opus 24: Rome, from the Campagna, Sunset (1867),  and considers how sublime space, ancient ruins and pastoral poetics were expressed by a surprisingly wide variety of artists: Albert Bierstadt, Arthur Wesley Dow, William Keith and others.  Works from the Timken, USD's print collection, and various private lenders will be included.
The Romantic Impulse in the American Landscape Tradition: A Soundscape
Nuvi Mehta, Project Director, San Diego Symphony
Works in this exhibition elicit a sense of awe at the beauty and majesty of nature, as well as a sense of nostalgia for the distant past. In identifying music to accompany the paintings and prints, I turned to the Romantic-era composers, much as the artists shown here turned to earlier examples of European landscape painters for their inspiration.
 The soundscape plays on a 30-minute loop.
Ottorino Respighi wrote Pines of Rome in 1924. This is the third movement - Pines on the Janiculum Hill. If you think you hear birds, you do. Respighi incorporated them into his original recording of Pines of Rome. Here, I took the liberty of extending their singing into other areas of the sound track.    
One of the last large scale Romantic masterworks was Richard Strauss' An Alpine Symphony, written between 1911 and 1914. In music, Strauss depicts a hike in the Alps he had taken as a boy, including the moment when the party he was with became lost and then soaked during a thunderstorm.
In 1879, having finally had some success, Antonin Dvorak, sent Johannes Brahms' publisher a new suite. The incorporation of Czech folk music flavors this particular composition, and the work soon became known as the Czech Suite. Dvorak subtitled the first movement Pastorale. It is meant to invoke a pastoral setting.
Années de pèlegrinage (Years of Pilgrimage) is a set of three suitesfor solo piano by Franz Liszt. After a period of extended travel abroad, Liszt was inspired by Italian poetry, and especially by Petrarch's 123rd sonnet, which he set to music:
On earth reveal'd the beauties of the skies,
Angelic features, it was mine to hail;
Features, which wake my mingled joy and wail,
While all besides like dreams or shadows flies.
And fill'd with tears I saw those two bright eyes,
Which oft have turn'd the sun with envy pale;
And from those lips I heard—oh! such a tale,
As might awake brute Nature's sympathies!
Wit, pity, excellence, and grief, and love
With blended plaint so sweet a concert made,
As ne'er was given to mortal ear to prove:
And heaven itself such mute attention paid,
That not a breath disturb'd the listening grove—
Even æther's wildest gales the tuneful charm obey'd.
Charles Tomlinson Griffes was born in Elmira, NY in 1884. He studied in Germany, and wrote in the German Romantic tradition before incorporating more impressionist techniques upon returning to the United States. The inspiration for The White Peacock—once described as the most beautiful piece of American music ever written-- came to Griffes as he watched a sunset while riding the train from Tarrytown to New York.
Camille Saint- Saens finished his Symphony No. 3 (with Organ) in 1886. Saint-Saëns said "I gave everything to it I was able to give. What I have here accomplished, I will never achieve again." We hear excerpts of the slow Maestoso or 'majestic' section
This exhibition is made possible by our generous supporters:
Collection of Sandy and Bram Dijkstra
Friends of the Timken
Collection of Angel and Fred Kleinbub
Museum of Contemporary Art San Diego
Rembrandt Society
San Diego City Commission for Arts and Culture
San Diego Symphony
Supervisor Ron Roberts, County of San Diego
Fine Art Collection, University of San Diego
Print Collection, University of San Diego
Image: Thomas Moran, Opus 24: Rome, from the Campagna, Sunset, 1867, oil on canvas, 63.5 x 114.6 cm (25 x 45 1/8 in.), Timken Museum of Art
---
Past Exhibitions and Installations