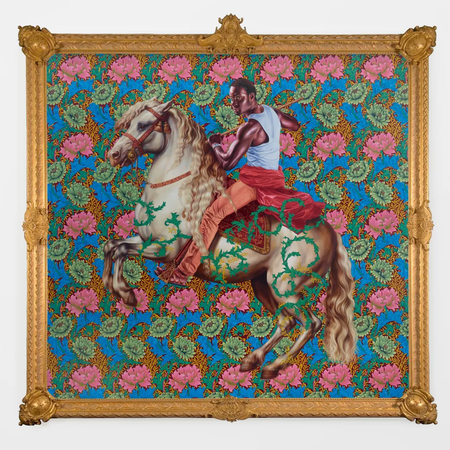 Timken Museum of Art Presents Distinguished, Major Work by Renowned Artist Kehinde Wiley: 'Equestrian Portrait of Prince Tommaso of Savoy-Carignan'
On View Now through May 2024
The Timken Museum of Art, located in San Diego's Balboa Park, announced this summer the presentation of a distinguished, major work by artist Kehinde Wiley: Equestrian Portrait of Prince Tommaso of Savoy-Carignan (2015), a modern-day version of the famed 17th-century painting by Dutch master, Anthony van Dyck. Wiley's version, a massive artwork measuring 112 x 118 inches is an extension of his Rumors of War series, which takes the form of a historic equestrian portraiture. Equestrian Portrait of Prince Tommaso of Savoy-Carignan is currently on display at the Timken Museum of Art.

Kehinde Wiley has become internationally recognized for creating exquisitely beautiful portrayals of power and masculinity via the age-old portraiture genre. Wiley's artistic expression explodes with an array of bold and bright colors. However, contrary to tradition, the subjects of Wiley's works are not the typical European nobleman but young black men the artist would likely meet on the street, often in New York City.

"We are delighted to share this extraordinary Kehinde Wiley painting with the Timken Museum of Art," stated Jeanne Masel, who together with her husband, Dennis Masel, own this Wiley portrait. "The work is a force to behold, and we are thrilled that it will be paired with Anthony van Dyke's Mary Villiers, Lady Herbert of Shurland."

Masel continued: "This will show 17th-century figuration alongside Wiley's contemporary interpretation of a classical European painting. This powerful juxtaposition will underscore how Wiley's paintings compel us to confront our thoughts of who has been artistically memorialized and how contemporary artists like Wiley are inserting a new narrative of Black and Brown people into the conversation."

During the start of the creative process, Wiley invites the subject of the portrait to his studio to choose a painting from an art history textbook and pose for photographs with the subject wearing his own everyday clothing. Wiley then begins the process of painting the portrait. In this way, Wiley subverts the tradition of portraying a powerful European nobleman by depicting a contemporary black man in the same pose. By addressing the politics of race and authority in art, Wiley's body of work points to the lack of representation of people of color in the history of Western art while challenging present-day portrayals of masculinity.

"Kehinde Wiley is one of the most celebrated artists working today," stated Derrick R. Cartwright, PhD, director of curatorial affairs of the Timken Museum of Art. "The Timken is proud to present his dazzling painting to the public for the first time in San Diego and to share Wiley's 'street-casting' identifying youthful contemporary models in the manner of famous Old Master European portraits."
Wiley Based His Work on Anthony van Dyck's Masterwork
Wiley's 21st-century painting on view at the Timken was inspired by Flemish artist Anthony van Dyck's equestrian portrait from 1634-35 depicting Italian military commander, Prince Tommaso of Savoy-Carignan. Painted in a style of relaxed elegance and ease, the portrait attributes a noble status to the subject through artistic tropes used to convey glory, prestige and wealth. Naming the work after the original source, Wiley's Equestrian Portrait of Prince Tommaso of Savoy-Carignan blurs the boundaries between traditional and contemporary modes of representation. Painting his subject larger-than-life and isolated against a colorful floral background, Wiley emphasizes the dignity and nobility of his model.
Wiley Selected to Paint Portrait of President Barack Obama
In 2018, Wiley became the first African American artist to paint an official U.S. presidential portrait for the Smithsonian National Portrait Gallery, selected by former President Barack Obama for this honor. In 2015, Wiley was the subject of a solo exhibition at the Brooklyn Museum in New York titled, A New Republic, which traveled to six venues including the Toledo Museum of Art, Ohio, Phoenix Museum of Art, Arizona and Seattle Art Museum, Washington.

Kehinde Wiley was born in Los Angeles, California and is based in New York. He received his BFA from the San Francisco Art Institute in 1999 and his MFA from Yale University in 2001. Shortly thereafter, he became an artist-in-residence at the Studio Museum in Harlem. His work has been the subject of exhibitions worldwide and is in the permanent collections of numerous museums including the Metropolitan Museum of Art, New York, and the Los Angeles County Museum of Art.

Just prior to the start of the pandemic we approached the Timken with the idea of collaborating to bring this extraordinary Kehinde Wiley painting to San Diego," stated Gaidi Finnie, executive director of the San Diego African American Museum of Fine Art. We knew that the Timken was the perfect location to bring his works and place it among the Old Masters. Wiley's unique style of taking original masterpieces and replacing the subject matter normally depicted by white men with contemporary black men is bold and uplifting."
# # #
The Timken Museum of Art presents Kehinde Wiley: 'Equestrian Portrait of Prince Tommaso of Savoy-Carignan'
Now through May 2024
The Timken Museum of Art operates Wednesday - Sunday from 10am to 5pm. Always Free Admission.
Sunday, October 29, 2023 | 4:30pm to 6:00pm
Art in the Evening Lecture & Reception: Decolonizing Symbols of Power in the Art of Kehinde Wiley
Featuring Denise Rogers, PhD, Professor of Art History, San Diego Mesa College
This evening event will explore Kehinde Wiley's themes of identity, power, presentation, and the decolonization of art and symbols.
Tickets: $45 Members / $65 Non-Members
Learn More: https://www.timkenmuseum.org/calendar/event/kehinde-wiley_art-in-the-evening-lecture/
Timken Museum of Art
1500 El Prado - Balboa Park
San Diego, CA 92101
619.239.5548
www.timkenmuseum.org
# # #