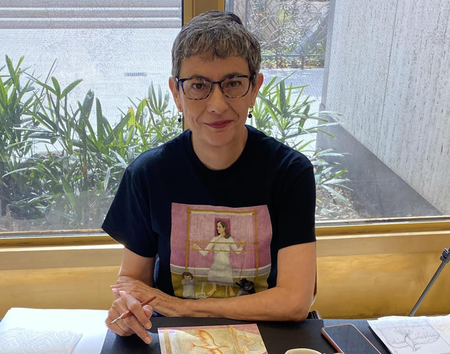 Timken Museum of Art Opens New Exhibition Showcasing Artist-in-Residence Marianela de la Hoz;
Destejidas (Unwoven) Explores Homer's The Odyssey
July 13 to September 4
After a two-year closure, the newly remodeled Timken Museum of Art has resumed its summer artist-in-residence program with Marianela de la Hoz and her exhibition Destejidas (Unwoven), which will be on display July 13 to September 4, 2022.
"This will be the Timken's third summer of its popular artist-in-residence series, interrupted by the coronavirus shutdown and Timken remodel," stated Derrick R. Cartwright, PhD, Director of Curatorial Affairs. "Following the success of artists Bhavna Mehta (2018) and Roman de Salvo (2019), we have invited Marianela de la Hoz to produce new work within the Museum as part of her residency, which is currently underway."
Cartwright continued: "De la Hoz is an admired painter whose work has been displayed in museums in Mexico and the United States. For the Timken, she proposes to complete a series of small-scaled works loosely based on the narrative of Penelope, a key character in Homer's epic, The Odyssey, who uses weaving (and unweaving) as a clever strategy for delaying the pursuits of her suitors until her husband, Odysseus, returns from war."
De la Hoz paints using the ancient technique known as egg tempera, which is a permanent, fast drying painting medium consisting of colored pigments mixed with a water-soluble binder of egg yolk. This technique, used since antiquity, was popular amongst medieval and renaissance
artists until oil painting replaced tempera as the medium of choice in the mid-15th century. Some of the oldest examples of this ancient form of painting can be found on early Egyptian sarcophagi. Examples can be viewed in the Timken's Russian Icon- and Italian Galleries.
"My painting is intimate, like those lockets in which we keep a portrait of a loved one, a lock of hair, a love letter," commented de la Hoz. "My art recreates the internal world of those facets of our lives in which we keep a variety of emotion including our happiness and grievances, love and hate, sins, dreams, secrets, guilt and profound feelings that we take out once in a while just
as we do with a photo album to reconnect with both our history and reality."
While de la Hoz's paintings tend to be small – typically 10 x 8 inches and smaller – they captivate with their original imagery and imaginative force. De la Hoz encourages us to consider connections between our daily life and the religious texts, classical myths, and children's fables that have helped construct our shared humanity. Throughout this exhibition, she celebrates the creative strength and wisdom of women like Penelope, connecting her recent work to many of the archetypal representations of powerful women.
"We are extremely fortunate to have Marianela de la Hoz as our artist-in-residence this year," stated Megan Pogue, Executive Director of the Timken. "With all the challenges of the past two years, Marianela's work will allow us to escape, reconnect with our inner spirit, and spark our imagination. We invite the public to come to the Timken to watch Marianela work through July 9, followed by her exhibition that will run through September 4."
De la Hoz's artwork has been exhibited in prestigious galleries and several museums, universities and cultural institutions in her native Mexico as well as in the United States where she has resided since 2001. Her work has also been shown in Canada, Germany, Japan, and the United Arab Emirates.
# # #