San Diego's Largest Rococo Painting, François Boucher's 'Lovers in a Park' to Undergo Extensive Onsite Conservation by Balboa Art Conservation Center
Beginning October 18, 2023
Public to be given rare opportunity to observe the scientific examination and professional conservation of a major work of art—the first public conservation at the Museum in more than half a century.

For the first time in its 58-year history, the Timken Museum of Art in San Diego's Balboa Park will undertake something truly unique. Its upcoming exhibition, titled 'Boucher: Conservation in a Park,' will be unlike anything many visitors have ever seen before. François Boucher's painting, Lovers in a Park (1758), which is part of the Timken's permanent collection and a public favorite, will undergo an interactive and extensive conservation treatment in public view beginning October 18, 2023. This innovative project is a collaboration between the Balboa Art Conservation Center (BACC) and the Timken Museum of Art.

This partnership between the Timken and BACC will allow the two organizations to showcase how a precious masterpiece is restored, and at the same time, demystify the world of art conservation. Following scientific analysis in BACC's lab, the conservation process will take place in the Timken's temporary exhibition gallery. The public will be invited to watch and ask questions of the conservators.

François Boucher's Lovers in a Park was among the very first works acquired after the Timken opened in 1965. At that time, research shows that the Museum administrative staff questioned whether Boucher's painting might actually be physically too big for the Timken's intimate and elegant spaces of its Mid-Century Modern building. In retrospect, those staff members may have had a point. Due to the painting's large size, Lovers in a Park has rarely left the Museum, and for this reason, the painting will be treated in the gallery space.

In subsequent years, the painting's protective varnish layer has naturally yellowed, and previous selective cleanings have resulted in an uneven impression of the artwork. Although varnish discoloration is common in historic paintings, the Timken is eager to bring one of its most popular paintings in the permanent collection back to its original, brighter appearance. This upcoming conservation process is part of a comprehensive collections care program, a practice undertaken by the great museums around the world to ensure the longevity of their artworks.
From the Timken's Curatorial Director
"Working with the experienced and knowledgeable staff of professional conservators at BACC, we believe we can significantly improve the appearance of Lovers in a Park," stated Derrick R. Cartwright, PhD, director of curatorial affairs of the Timken. "We also want to use this conservation process as an occasion to study this impressive painting using a variety of imaging technologies that were not widely available in 1965 when the work was purchased by the Putnam Foundation."

Cartwright continued: "Our goal is to share new knowledge with the public while offering a glimpse into the kind of maintenance which happens behind the scenes and is invisible to our Museum visitors. The Timken is committed to caring for its extraordinary collection. To this end, we've commissioned conservation treatments of at least a half-dozen other works in recent years, but not Boucher's painting, which is a public  favorite. After nearly 60 years, it is time to bring this radiant piece of art back to its original appearance!"

Understanding Conservation
Conservation is an interdisciplinary profession that combines art, history and science to preserve art and cultural materials for the future. The original vision of the artist serves as a guiding principle for each conservation treatment. Many of the Timken's beloved objects owe their enduring beauty to the talents of conservation professionals. The process includes an examination to understand the materials and techniques used by the artist followed by reversible conservation treatments.

Conservators employ a variety of tools to complete their tasks, including X-radiography and multi-spectral imaging to see through a painting's layers. These highly trained professionals possess a specialized suite of skills to address technical challenges, be it a painting just in need of minor structural repairs or more intensive rehabilitations. In the case of Boucher's painting, the museum does not expect major surprises, but one never knows what will be discovered when modern science is applied to a work that is nearly three centuries old.


From Balboa Art Conservation Center
"Through the work of the Balboa Art Conservation Center, Museum visitors will be able to witness the conservation of François Boucher's Lovers in a Park and explore our conservators' process," stated Alexis Miller, head of paintings conservation for the BACC. "The process includes a technical analysis employing X-rays and imaging of the artist's process and material choices followed by conservation treatment techniques."

Leticia Gomez Franco, executive director at BACC concluded by saying: "This is such an important moment for the Balboa Art Conservation Center. We have been serving our region as the only nonprofit art conservation organization for nearly five decades. Through this partnership with the Timken, we will finally get to share with the public what usually takes place behind the scenes—and we welcome seeing the Timken visitors."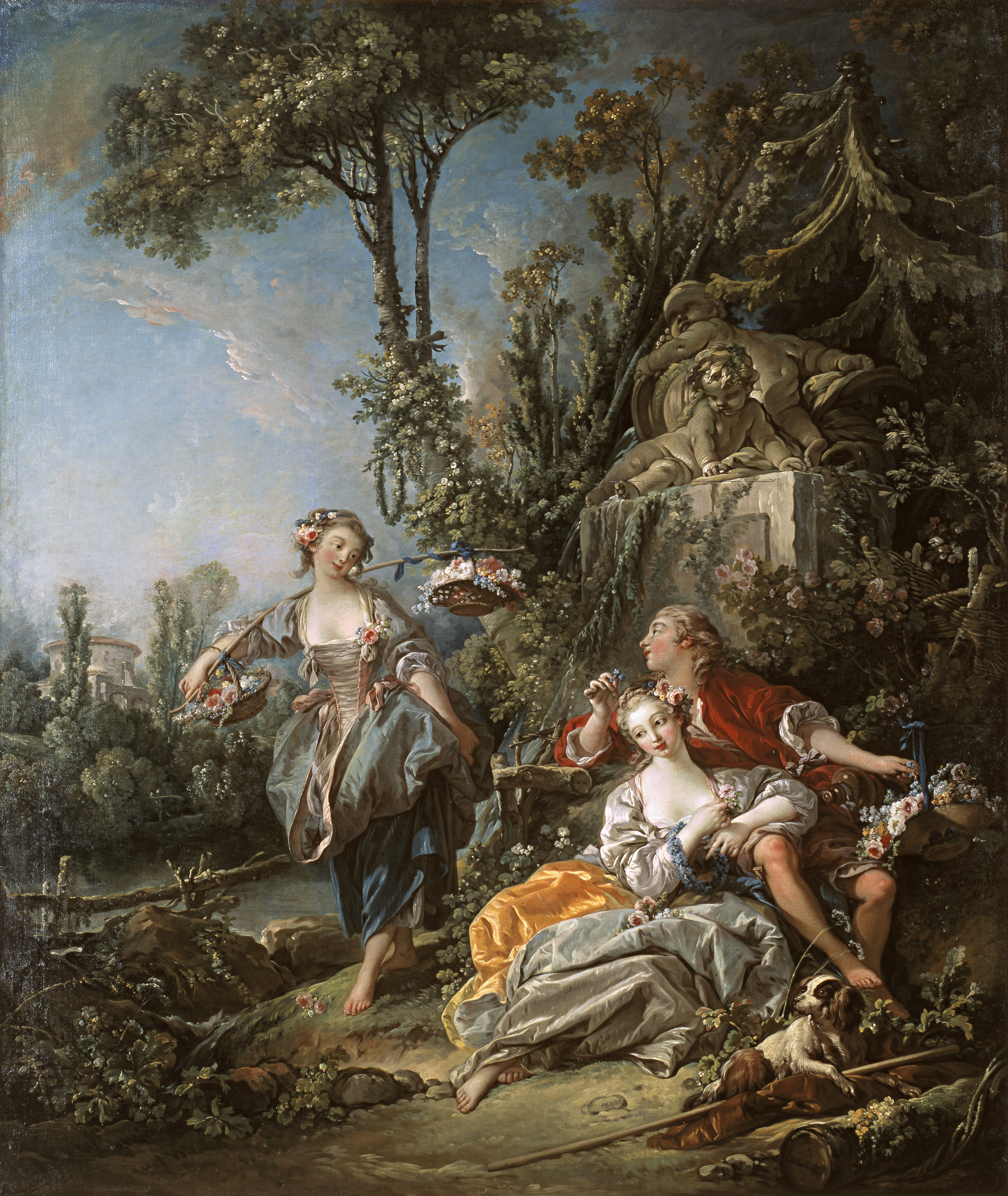 François Boucher, Lovers in a Park (1758)
Oil on canvas; Dimension: 91.50 x 76.73 inches (232.4 x 194.9 cm)
Timken Museum of Art, San Diego, California

François Boucher (French, 1703 - 1770) was a renowned painter, draftsman, and etcher. Born in Paris, he earned the prestigious Prix de Rome at age 20 and received his first royal commission in 1735. He gained the favor of Madame de Pompadour, King Louis XV's mistress, becoming her favorite painter and producing remarkable works from 1750 until her passing in 1764. Deeply influenced by the Rococo taste of the French court of King Louis XV, François Boucher channeled his classical ideas into joyous, highly decorative compositions based on mythological or pastoral themes.
#   #   #

Boucher: Conservation in a Park Exhibition Schedule
The Timken Museum of Art is open Wednesday - Sunday from 10am to 5pm. Always Free Admission.
Conservation Hours (Beginning Oct 18, 2023):
Thursdays: 10:00am - 12:00pm and 1:00pm - 3:00pm
Fridays: 12:30pm - 4:30pm
Public is invited to interact with the conservators on Fridays from 1:30pm - 3:30pm.


Monday, October 16, 2023 | 10:00am to 11:30am
Curator Conversation - Derrick Cartwright in Conversation with Alexis Miller, and Bianca Garcia
Join us for an engaging conversation with Timken Director of Curatorial Affairs, Derrick Cartwright, Ph.D. and Balboa Art Conservation Center Painting Conservators Alexis Miller and Bianca Garcia as they discuss the Timken's extensive onsite public conservation of François Boucher's Lovers in a Park.
Tickets: Free for Members / $15 for Non-Members
Learn More: https://www.timkenmuseum.org/calendar/event/curator-conversation-BACC-2023/


Timken Museum of Art - Balboa Park
1500 El Prado
San Diego, CA 92101
619.239.5548
www.timkenmuseum.org
#   #   #

About the Balboa Art Conservation Center (BACC)
For more than 45 years, BACC has been fulfilling its mission as a nonprofit art conservation and cultural preservation organization to provide conservation and preservation services for works of art, cultural objects, and historic artifacts. Its highly trained conservators offer a rigorous and scientific approach to the preservation, examination, and treatment of cultural heritage objects. BACC is committed to benefiting the public good by supporting training and education opportunities and partnering with stewards of community cultural collections. BACC is expanding access to the field of conservation to historically underrepresented communities by growing the existing knowledge base to include culturally conscious and responsive methods of conservation and preservation.

About the Timken Museum of Art
Founded in 1965, the Timken Museum of Art preserves the Putnam Foundation Collection of European Old Masters, American art and Russian icons for the education and benefit of present and future generations of San Diego residents and visitors. Featuring world-class exhibitions that are open free to the public, the Timken is one of the leading art museums in San Diego. The Timken strives to expand art appreciation by serving the community through year-round tours both in-person and online. The museum exhibits the only Rembrandt on public display in San Diego County - a great attraction for those new to the art world and the art connoisseur.
#   #   #