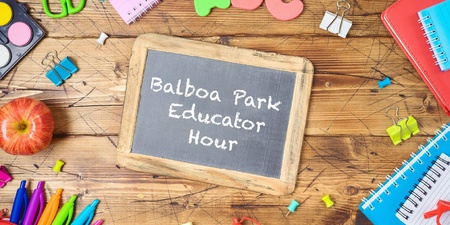 TUESDAY, OCTOBER 13, 2020
Calling all educators and parents! The Balboa Park Educator's Council has brought together representatives from 12 institutions to share resources, funding opportunities, and programs to increase student engagement in our first virtual Balboa Park Educator Hour.
Whether you are a parent teaching from home or an instructor back at school, join us for a sneak peak of new programming designed with your students in mind. Learn about virtual field trips, remote workshops, funding sources, and free programs.
As a thank you for joining us, you can enter to win FREE t-shirts, materials, and even virtual field trips or workshops for your class! Participating institutions are listed below.
The event is FREE to attend, but RSVPs are required. We are here to help!
PLUS, don't forget about the San Diego Museum Council's "Return to Learn" roundup of other educational offerings. View their blog.
Visit their website here.
RSVP here!
https://us02web.zoom.us/webinar/register/4516013924031/WN_M_r-uHYmQgCuDTj5818fUA