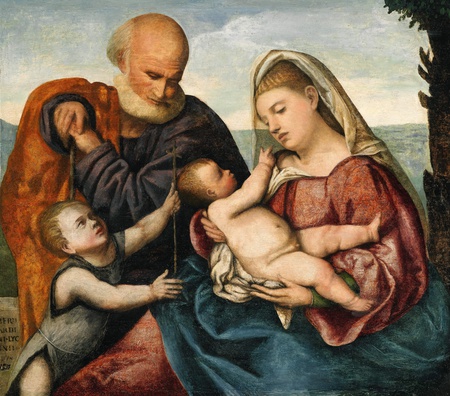 Private Devotions: Italian Paintings and Sculpture from San Diego Collections
On View: June 22, through August 20, 2017
Collections in Context: Private Devotions: Italian Paintings and Sculptures from San Diego Collections is the second in the ongoing summer series Collections in Context designed to highlight important works of art from private collections and heighten understanding of significant works of art at the Timken.
Curated by Derrick R. Cartwright, PhD., Director of Curatorial Affairs, this exhibition will feature more than a dozen magnificent Italian masterworks of art dating from the 13th through the 17th centuries. Highlighted and newly displayed is the Timken Museum of Art's Niccolò di Buonaccorso's Madonna of Humility with St. Catherine of Alexandria, St. Christopher, the Annunciation, and the Crucifixion.
Generally recognized as one of the rarest and most engaging Sienese artists of the last half of the 14th century, Buonaccorso is known primarily for his production of small-scale altar pieces for private devotions. The Timken's triptych displays the sophistication of the artist's short five-year career, approximately 1370-1375. The exhibition also showcases objects often used by individual worshipers as part of the personal prayers or shown in intimate domestic settings. Rarely seen by the public, only a few of these works have been on display previously.
In addition to the Timken's Niccolò di Buonaccorso Madonna of Humility, the Private Devotions exhibition will include exquisite Italian masterpieces from the Collections of Robert and Karen Hoehn, Lowell and Jill Teschmacher and Frank and Demi Rogozienski. Art works include: Luca de Tomme The Trinity and the Crucifixion, with Scenes from the Life of Christ, Giuseppe Maria Crespi Madonna and Child (early 18th century); Lorenzo Ghiberti Madonna and Child (second quarter of the 15th century) and Bernardino Licinio's Holy Family with the Infant St. John the Baptist (1514).
Collections in Context: Private Devotions: Italian Paintings and Sculptures from San Diego Collections is made possible by:
Collections of Robert and Karen Hoehn
Frank and Demi Rogozienski
Lowell and Jill Teschmacher 
Above image:
Giuseppe Maria Crespi (1665-1747)
Madonna and Child, n.d. (early 18th century
Oil on canvas, 18 1/8 x 22 5/8 in.
Collection of Robert and Karen Hoehn
Homepage image:
Bernardino Licinio (c. 1490-1565)
Holy Family with the Infant St. John the Baptist,1514,
Oil on panel, 19 ½ x 22 ¼ in.
Collection of Jill and Lowell Teschmacher