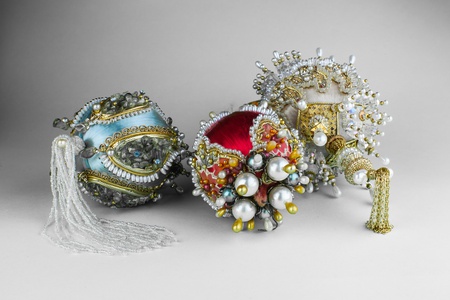 On View December 1 - 31, 2017
Glittering gems, swirls of colors, elaborate filigree, whimsical designs – it's the Jewels of the Season: Holidays at the Timken. Since 1988 the Timken's annual holiday tree featured the Hord & Schlappi collection of ornaments designed and handcrafted by local artists Florence Hord and Elizabeth Schlappi. Florence Hord, wife to world-renowned sculptor Donald Hord, began making ornaments in the 1930's. In 1959, Florence invited family friend Elizabeth Schlappi to aid her efforts, and together they grew the collection to over 2,000 ornaments in the course of 80 years.
Each ornament features semi-precious gems, sequins, stones and filigree collected by the two artists from around the world. Often compared to Fabergé eggs, the elaborate designs and patterns require anywhere from two days to two weeks to create a single piece.
To expand the display of ornaments the Timken partnered with San Diego State University School of Theatre, Television, and Film to create a custom, multimedia design to showcase the holiday treasures. Faculty and graduate students infused the long-standing holiday tree decoration tradition with a dash of creativity to create their concept, engineer the design and seamlessly display the ornaments among the Timken's tapestries.
Together, the organizations created a holiday vision to highlight the personality and whimsical elements of the ornaments, while capturing the holiday spirit. The Timken will sparkle with decades of craftsmanship in a contemporary twist. The holiday display will be on view at the Timken December 1-31, 2017.
"Based on the enormous community response from last year, our students are thrilled to be included again this year," stated Dr. Joyce M. Gattas, Dean of the College of Professional Studies and Fine Arts.  "The partnership with the Timken is a prime example of how collaboration benefits students and serves the public good. Our design and technology students are gaining valuable experience in applying what they have learned in the classroom."