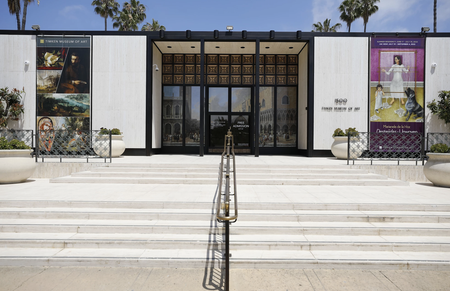 After a two-year renovation, the Balboa Park art museum reopens its doors with a focus on inclusion and accessibility
The Timken Museum — the jewel box of Balboa Park — is freshly polished both inside and out and ready to open.
The $3 million, two-year renovation project of the 57-year-old museum includes system upgrades, the restoration of the building's bronze finishes and revamping of the exhibition spaces.
"We wanted to return it to its original glory while upgrading the mechanical systems," said Megan Pogue, the museum's executive director. "A lot of work that has been done the visitor won't see."
What visitors will see when the doors reopen to the public on Wednesday for the first time since March 2020 is a bright, welcoming space. Every painting and sculpture will now have educational text, designed to inform both art novices and the regulars who come see their favorite pieces and artists.
"One of our biggest goals is to invite people in," Pogue said. "We want to really embrace our free status. This is the place for people who can't afford admission prices — where they can see fine art in person. And we are the only museum in San Diego that has a Rembrandt." 
"We want to be known as the people's museum. People can come here and not feel intimidated," she said.
Inclusivity in progress
For many years, the simple, rectangular midcentury modern building, set among Balboa Park's ornate Spanish Colonial Revival architecture, was an enigma. The art — European and American masters and Russian icons — was there without explanation. The galleries, with original 1950s dark green or 1980s pink fabric walls, seemed dark and unwelcoming to the casual visitor.
Pogue and Derrick Cartwright, the museum's director of curatorial affairs, have been working hard to change that image, and their goal of inclusivity extends to the collection.
During the more-than-two-year closure, which started with the COVID-19 pandemic shutdown, the museum acquired two works donated by patrons of the arts. One is a marble "Bust of Eve" by Thomas Ball, donated by Kevin and Irene Rowe, that will add some dimension to the collection, Cartwright said. The other is "Salomé" by Ella Ferris Pell, an accomplished artist who studied in France and was well-known as a salon artist in New York. Given to the museum by Sandra and Bram Dijkstra, "Salomé" is the first piece in the collection by a woman.
Cartwright hopes to add more women artists to the 84-piece permanent collection and is finding ways to be more inclusive with temporary exhibitions where contemporary art complements the classics.
"We really need to bring in the next generation. We need to broaden our appeal with more diversity," Cartwright said. "We need to connect contemporary artists with the collection and get artists of color involved."
Marianela de la Hoz, this year's artist in residence, is bringing her Mexican heritage to a suite of 20 paintings based on the story of Penelope, a character in Homer's "Odyssey." Her residency starts June 16 when she will be finishing her final work in the Destejidas (Unwoven) series.