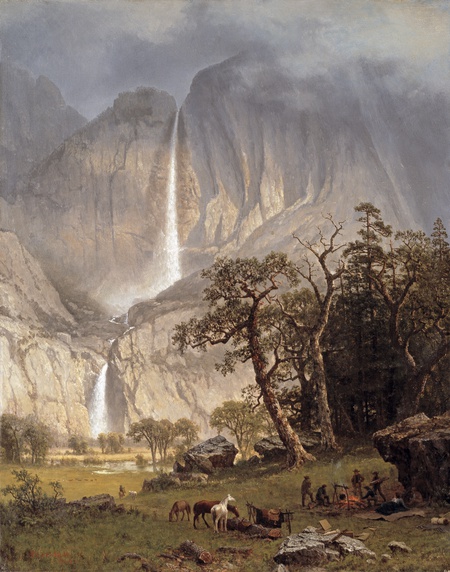 Certain art objects are familiar because we recognize their subject matter and we understand the historical circumstances that surrounded their creation. This week's entry is about one such work.
Although born in Germany, Albert Bierstadt (1830-1902) moved with his family to Massachusetts as a child. He first ventured west in 1859 as part of Frederick W. Lander's "Oregon Trail" expedition, but made it no further than the Rocky Mountains on that trip before returning home. In April 1863, Bierstadt started again overland toward the Pacific Coast, arriving in San Francisco by mid-July. By August, the painter was in Yosemite, just in time to learn he had been drafted into the Union Army. Like many privileged Northerners, Bierstadt opted to pay his way out of performing military service, but could not extract himself from Yosemite's splendor for several more weeks. He was enamored with the raw physical beauty of the pristine, "Edenic" valley. Along with two artist-friends, Bierstadt filled his sketchbooks with observations that he would later use to compose large-scale paintings back in New York City. One of those landscapes was Cho-Looke, The Yosemite Fall, an exhibition picture which a journalist called out as "one of the artist's best" during a studio visit in June of 1864. That same month, President Abraham Lincoln signed a bill that granted Yosemite status as a State Park. A quarter century later, President Benjamin Harrison signed the congressional act that permanently established the site as a National Park.
It has become an art historical commonplace to assert that 19th-century artists' and writers' representations of Yosemite, Yellowstone, and the Grand Canyon helped convince legislators to preserve these lands for public use. With its sweeping upward view of the falls and verdant valley, we can easily imagine how Cho-Looke might contribute to that effort. Still, when these western landscapes were first shown, it is worth recalling the incredulity of some sophisticated art audiences. Were these faithful depictions or creative exaggerations? The question was a fair one since Bierstadt was not alone in his tendency to embellish scenes of nature for dramatic effect. Only after seeing these places in photographs--Bierstadt's brother, Charles, was one of many camera operators who documented the West in stereographs and other mass-reproduced formats--were audiences fully convinced that the towering waterfalls, rare geologic formations, and expansive river valleys really did exist. Indeed, photographs of Yosemite Falls taken from roughly the same point of view as the Timken picture, suggest that Bierstadt might have relied on his brother's commercial images to help him finish his painting.
The thorough scholarship of Nancy Anderson, and other leading curators of American art, has meant that we know a lot about Bierstadt's western itineraries. Together with his wife, Rosalie, he spent roughly a year in California from 1872-73, stopping in Yosemite for another two weeks. The artist returned again to San Francisco, in 1880, but it's not clear whether he went back to Yosemite on that particular trip. In 1889, hoping to recreate his youthful success as part of survey expeditions charting the path of railroads, Bierstadt set off through Canada to Alaska. He travelled as far South as Portland, Oregon on that excursion but seems not to have crossed into California. Each of these encounters resulted in grand landscapes that were displayed publicly, but without the sensationalism that accompanied his initial Yosemite pictures. In the end, fascination with the western wilderness fell out of favor with progressive art audiences. By the start of a new century, Bierstadt was nearly forgotten.
Heroic representations of the American west, such as Albert Bierstadt's Cho-Looke, The Yosemite Fall, are essential to understanding the complex cultural and political developments of the late-nineteenth century. We should pay attention to their claims of wonder as well as the ways that they also claimed physical space. If you find yourself in Washington, D.C. anytime soon, plan to visit the Smithsonian American Art Museum's current exhibition, Alexander von Humboldt and the United States: Art, Nature, and Culture, and see the Timken's landscape in another compelling context.