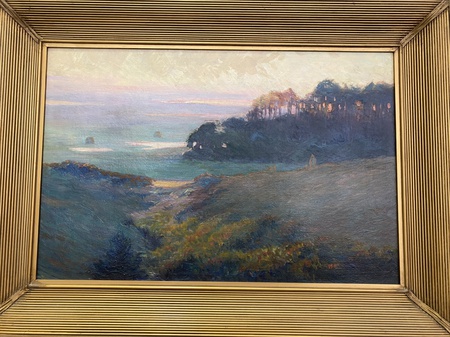 Arthur Wesley Dow, Bayberry Hill, Sunset, 1907

The scene is nuanced but simple. A layered landscape recedes into soft, muted colors. Pinks, purples, and greens predominate. The horizon line is indistinct. From an elevated, grassy place, the foreground splits into a creek bed, leading our eye down the slope onto a marshy plain. Scattered across that middle ground, the silhouettes of twin grain stacks rise out of the haze. To the composition's right, a stand of trees extends toward the center and screens the waning sunlight. From a spot not far from here we imagine the sunset must be spectacular. In the end, this seems more a suggestive sketch than a finished painting, more like a haiku than an epic poem. Nonetheless, this handsome, self-assured work epitomizes the sensibility of the artist who created it.
Arthur Wesley Dow (1857-1922) was many things: a painter, printmaker, photographer, art theorist, and respected connoisseur of Japanese aesthetics. For this reason, in 1896, he was named curator of Japanese Art at the Museum of Fine Arts, Boston as the replacement for his mentor, Ernest Fenollosa (1853-1908). Perhaps his most lasting influence in the United States grew out of his role as an influential educator, however. Dow taught at Columbia University and wrote several books on art-- Composition: A Series of Exercises in Art Structure for the Use of Teachers and Students (1899) and Theory and Practice of Teaching Art (1912); the former is still available in print and is referenced by artists today. Georgia O'Keeffe (1887-1986) and Charles Sheeler (1883-1965) are counted among his many successful students. Although Dow devoted considerable energy to his teaching practice, he set aside time each summer to devote his full attention to creating his own highly personal landscapes, such as the small canvas that was recently donated to the Timken Museum of Art.
Dow painted Bayberry Hill, Sunset in Ipswich, Massachusetts, where he was born, and where, with his wife, Minnie Eleanor Pearson--also an artist--he operated a summer art school from the mid-1890s through the first years of the 20th century. A painting from this period, very similar to the Timken's in terms of color and viewpoint but physically larger, called The Tidal Empire (Ipswich Marshes), 1917, can today be found at the Jordan Schnitzer Museum of Art at the University of Oregon. As a practicing artist as well as a teacher, Dow appreciated designs based on subjective interpretations of the observed world. He advocated that "the student should make many studies from nature" but he looked down on images that seemed to offer little more than a replication of visible phenomena. Interestingly, rather than place emphasis on one particular method over another, Dow advocated for whatever technique produced the most beautiful effect in a finished work of art. With influences taken from Japanese ukiyo-e prints and Impressionist painting, Dow embraced the changes taking place in American art toward the end of the 19th century and is today championed by both admirers of the Arts and Crafts movement and tonalism. At the same time, in early-20th-century works like Bayberry Hill Sunset, Dow proposes a radical simplification of forms and puts forward a modern version of the New England landscape.
We are grateful to Jane Kirkeby, former trustee, for her many generous gifts to the Timken, including this resonant work by Arthur Wesley Dow.