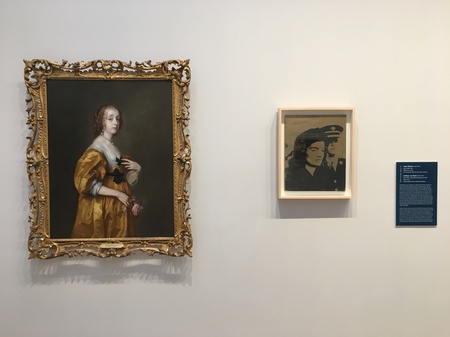 Because of the success he enjoyed throughout his career, we know a lot about the life of Anthony van Dyck (1599-1641). He was born in Antwerp, the seventh of twelve children in a prosperous, devoutly religious home. When he was ten-years-old, van Dyck went to study with Hendrik van Balen (1575-1623 who headed Antwerp's professional organization of painters, the Guild of St. Luke. Van Dyck likely spent the next several years learning his craft there. By the time he turned eighteen, van Dyck found new employment in the busiest of all painting studios in that city, the one led by Peter Paul Rubens (1577-1640). Rubens once referred to van Dyck "the best of my pupils." The two men ultimately shared many traits: a passion for travel--especially to Italy, bravura draftsmanship, interest in the commercial benefits of printmaking, and a keen instinct for pleasing their royal patrons. There was admiration, but also competition, between these two leaders of the seventeenth-century Flemish art world. In 1621, Rubens received the commission to paint a monumental cycle of decorative paintings from Marie de Medici, now at the Louvre. During the same year, van Dyck was invited to England where he went to work for King James I.
In 1632, still in England, van Dyck was knighted and became the principal painter to Charles I. Although he made regular trips back to the European continent, van Dyck called London his home and died there. It is estimated that in the course of his final decade he painted the King and Queen of England perhaps 70 times and produced another 30 or so portraits of members of their court. One of those paintings has been at the Timken since 2005. Mary Villiers, Lady Herbert of Shurland has a wax seal on its back indicating it was a royal commission. Like the artist who painted this work, we know a fair amount about the person on the front of the canvas. Mary Villiers was about fourteen years old when she sat for this particular portrait. If Villiers seems joyless, it is with good reason. Her husband of just two years, Charles, Lord Herbert of Shurland, succumbed to smallpox in 1636, the same year in which we presume the painting was made. Mary holds a single downturned rose in one hand while her other hand points to the black, mourning ribbons on her dress. Van Dyck relied on symbolism of this kind; for example, he uses the same shattered pink rose petals to signify the end of a life in his portrait of Venetia, Lady Digby on her Deathbed (1633, Dulwich Picture Gallery).
Although she appears poised in her resplendent gold dress, there is something pained, yet indisputably heroic, about this depiction of a young widow. Scholars speculate that Villier's family commissioned the Timken's portrait to share with prospective suitors. Indeed, van Dyck painted Mary Villiers again, about a year later (Lady Mary Villiers, c. 1637, North Carolina Museum of Art), in a lighter mode, shortly before she married the King's cousin and became the Duchess of Richmond and Lennox. He would paint her again after this marriage. The most touching of all the portraits that van Dyck made of Mary Villiers, however, is the one in San Diego. Reeling from grief, the fallout from a pandemic, and bracing for an unknown future, this depiction of Mary Villiers models a form of grace under pressure that merits not just our sympathy, but admiration as well.
Partly for this reason, when the Timken displayed works on loan from the Sonnabend Collection in its galleries, a little over a year ago, I hung Andy Warhol's Jackie (Gold) (1964) alongside van Dyck's painting. Separated in time by more than 325 years, and vastly different in terms of technique, these two portraits share a sensibility about private grief in the face of public scrutiny that suggests their lasting alignment.