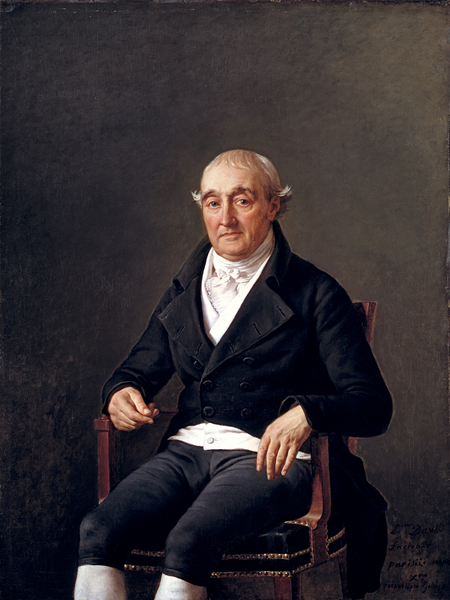 Jacques-Louis David, Portrait of Cooper Penrose, 1802
I have sometimes wondered "what would someone like Cooper Penrose make of his portrait's current situation?" As someone who lived much of his adult life outside of blustery Cork, the Irishman presumably would enjoy the better weather that Southern California provides. I am less sure that Penrose would appreciate the stark architectural setting of the Timken. Our space could not be more different than the grand manor house, Woodhill, that he and his wife Elizabeth, spared no expense first buying and then refurbishing in a neoclassical style. Although clearly not the smiling type--he was at one time a practicing Quaker--Penrose would find some amusement at being surrounded by likes of Monsieur and Madame Pupil and Guy XVII, Comte de Laval. I am guessing they would strike him as much too "ancien regime" for his progressive tastes. Or maybe not. He once bought a billiard table, which raised the eyebrows of his Quaker friends. Despite his religious beliefs, Penrose was a man who clearly appreciated fashionable things. Having a portrait made by the leading painter in France, Jacques-Louis David (1748-1825), was another example of Penrose's determination to make himself look cool.
As it happens, we know something about the circumstances of this commission. Descendants of Cooper Penrose recalled that it took some convincing before David agreed to paint their ancestor. In the end, the famous French artist relented. Archives kept by the Timken include copies of correspondence between David and Penrose which suggest that after being approached by Penrose in Paris, David agreed to do this portrait for "two hundred gold Louis," a significant sum at the time. The artist further believed that the result "will be a monument that will attest to Ireland the virtues of a good family man and of the painter who has rendered them." We may assume that Penrose was both flattered by these words as well as by the final image. Not everyone felt that way, however. David reportedly showed the work-in-progress to a visiting English painter, Joseph Farrington (1747-1821), in late 1802. Farrington disliked it a great deal and noted in his diary that Penrose had been "painted in a very poor manner" by the fabled artist of the French Revolution.
Regardless, David signed and inscribed the work boldly with his name in the lower right corner. He also dated it monumentally in Latin: "anno/ Xme/ republicae Gallicae"--the tenth year of the new French Republican/revolutionary calendar, which David himself helped inaugurate in 1792. Penrose was eager for the painting to assume a place of honor in his home. A highly successful timber merchant when he commissioned the picture, he pressured David to complete the work at least partly because he wanted to show it off on the just-finished walls of a newly expanded Woodhill, c. 1800. Penrose died in 1815 but the picture remained with his family until the 1930s when they quit Ireland and moved to London. Amy Putnam purchased the portrait for her future museum in far off San Diego, in 1953. The portrait has been shared generously with museums throughout the world since that time, but it always comes back home to the Timken, where Cooper Penrose looks slightly uncomfortable but, all things considered, pretty satisfied with his surroundings.