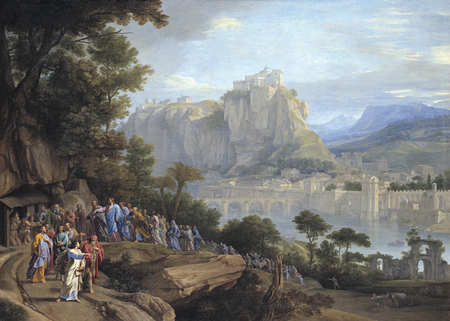 Philippe de Champaigne, Christ Healing the Blind, 1655-60
We live in an extraordinary moment that is hastening to find cures: for the current pandemic, for systemic injustices, for the despoiled environment. It can be hard to focus on so many issues at once, they all seem urgent and overwhelming. Time spent contemplating a work of art can have the effect of slowing us down, however, teaching us to pay better attention and to investigate the signs around us, as well as their causes. Occasionally, this practice offers a message of abiding hope.
Take a painting by Philippe de Champaigne (1602-1674), Christ Healing the Blind, as an example. The large, carefully composed picture invites the viewer to take in a vast landscape that includes wooded countryside, calm waterways, a precise townscape, and tall mountains merging with the clouds in the hazy, atmospheric distance. Our eye is led into this convincing pictorial space by a brightly lit figure who occupies the lower left corner of the scene. Similarly-robed figures follow this young man in a serpentine procession that extends into the composition's middle ground. His raised right arm, however, indicates a direction forward, away from the various emblems of human achievement—archways, bridges, and domed structures atop rocky escarpments—that provide the landscape with its overall charm. His gesture, deliberate as it is, ends up being a feint. If we follow it, we will likely miss the main event, which occupies a space further back in the column of figures. Fourteen bodies behind, we encounter another individual robed in purple and blue who makes a reciprocal gesture with his right hand. That figure is Christ. He is performing a miracle.
Surrounded, or more precisely, led by his apostles, Christ stops to heal two blind hermits who emerge from a rude cave at the far-left edge of Champaigne's canvas. Arms raised, these men—one young, one old—are helped from their dwelling by another colorfully clad figure who guides them to the waiting Christ. The forward motion of the procession abruptly halts at this point and a sense of suspense builds around the impending cure. Already the leaders of the march are separating themselves from the miracle. They are simply unaware of what is taking place right behind them.
Champaigne was born in Brussels, but left Flanders in 1621 to study in Paris. He was likely drawn there by the presence of Peter Paul Rubens (1577-1640) who was then working in the French capital. Champaigne went on to become a trusted member of Louis XIII's court, painting numerous works for the king, as well as for Cardinal Richelieu (Armand-Jean du Plessis). Richelieu served as First Minister and was the primary patron of the arts during the second quarter of the seventeenth century. Among his many public acts, he created the Académie Française, to which Champaigne was invited to become a founding member of the painting and sculpture division in 1648. Champaigne was an avowed Jansenist, however. This Catholic sect, which flourished throughout Western Europe, was opposed to Richelieu. By 1655, or so, the artist withdrew from court and, consequently, no longer enjoyed a steady flow of portrait and religious commissions. During the last two decades of his life, Champaigne painted landscapes in a classicizing manner indebted to the ideas of his famed contemporary, Nicolas Poussin (1594-1665), then living in Rome.
Christ Healing the Blind belongs to this later phase of Philippe de Champaigne's career. A subtly dramatic work, charged with hope, it repays patient vision.