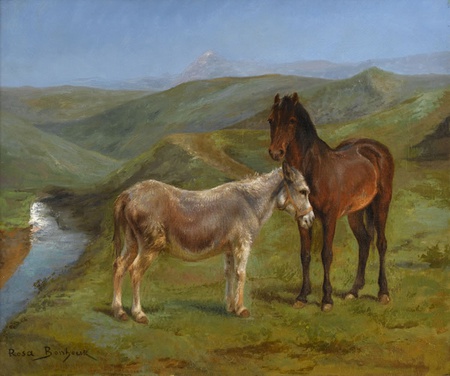 A year ago, before social distancing, protective masks, and museum closures were imaginable circumstances of daily life, the Timken's leadership resolved to dedicate 2020 to a yearlong celebration of women through public programs and displays. There was good reason for that commitment: in two weeks--August 18th--we will commemorate the 100th anniversary of the 19th amendment to the U.S. Constitution which guaranteed women the right to vote. Beyond this, let's remember, too, that our museum was founded by three remarkable women and two women have already served ably as the institution's executive director. For the past several years, we've made efforts to include women artists--from Marguerite Gérard (1761-1837) to Ella Ferris Pell (1844-1922) to Kiki Smith (b.1954)--in virtually every exhibition that the museum presents.
Still, there are no works of art by women in our permanent collection.
This is not because women artists can't be easily identified between the early-sixteenth to late-nineteenth centuries, the timespan of the Timken's greatest strength. To the contrary, in Italy, we think immediately of Sofonisba Anguissola (c. 1525-1625) and Artemisia Gentileschi (1593-after 1654); in Holland, let's recall the contributions of Judith Leyster (1609-1660) and Rachel Ruysch (1664-1750), in France, Elizabeth Louise Vigée-LeBrun (1754-1842) and Anne Vallayer-Coster (1744-1818) both achieved renown in their own lifetimes; and Edmonia Lewis (1845-after 1911) and Mary Cassatt (1844-1926) made numerous memorable works that would significantly enrich any museum's survey of American art. I haven't begun to exhaust the names that merit possible inclusion with such a brief list either. The program in 2020 was slated to address their absence and all three temporary displays were conceived around the theme of women's significant contributions to art history. I don't need to remind the audience that reads this post however, the museum is currently closed, blunting those good intentions.

The good news is that many of 2020's curatorial projects are in the process of being rescheduled. Not everything that had been planned can still take place. For the work of the week, I'm sharing a painting that was slated to be on view as I write, but which regrettably we won't have a chance to present to the public in 2021. Rosa Bonheur (1822-1899) was a leading figure in nineteenth-century French art. Born in Bordeaux to an artistic family, she achieved early success and showed her work at the Salon when she was just 19. Bonheur is best known today for her heroic depictions of animals, the most famous of which is The Horse Fair (1852-55, Metropolitan Museum of Art). It has been suggested that Bonheur sometimes dressed as a man in order to access the spaces--stockyards and auctions--that were useful to her career as an animalier. This strikes us as demonstrably unfair since her male contemporaries rarely faced such problems (think of Degas's access to ballet dancers in their dressing rooms). In any case, Bonheur overcame the obstacles placed before her, and today we remember the quality of her realist works, not the hindrances to their production.

A Pony and a Donkey likely dates from late in Bonheur's career. She spent her lifetime making complicated compositions of animals. By contrast, this sketch has the appeal of seeming effortless. Small works, such as this, likely served as studies for Bonheur's more elaborate exhibition pictures, or else were opportunities to refine her technique. A wax seal on the back of this particular one indicates that the work remained in the artist's studio until after her death. It became part of an important sale of Bonheur's estate held at Galerie Georges Petit in Paris, in late May and early June of 1900. Pictures of domestic animals--especially horses--were popular with collectors throughout the nineteenth century, so it is not surprising that this study was purchased out of that sale. In the twenty-first century, the working donkey in the picture's foreground might strike us as somewhat less beguiling than the unharnessed chestnut brown horse to the right, but it appears that these two animals served each other as good companions--as well as good sitters for the artist. Another work by Bonheur called Donkey, 1880, can be found at the Portland Art Museum today. I seize this chance to thank the private owners of this work for sharing it--such as we can these days--with the public here in San Diego.